Welcome to the Ana Mulvoy Ten Wiki
---
Welcome to the Ana Mulvoy Ten Wiki, the official collaborative resource about British actress Ana Mulvoy Ten.
About Ana
---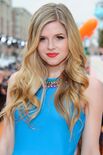 Ana Maria Mulvoy Ten (born 8 May 1992) is an English actress. She is best known for playing the character of Amber Millington on the Nickelodeon series House of Anubis. Before she started acting she went to an all girls private school in Great Missendon, Pipers Corner, before she left for an acting career in 2007. She played Rosi in the Disney Channel Spain short show, Cosas de la Vida. (read more...)
Featured article
---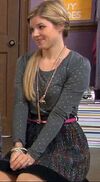 Amber Millington is a character that Ana Mulvoy Ten portrayed in House of Anubis. Amber is shown as the "dumb blonde" of the group but what if she knows more than she lets on? She goes to the boarding school and stays at Anubis House.
Featured user
---
ilovesibuna is the user of the month. Be sure to leave her a message on her wall!